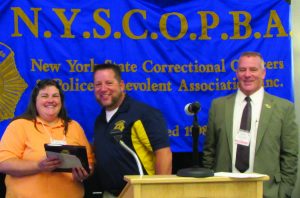 On or about April 30, 2016 a letter was received by NYSCOPBA from Anna
Millenson and Mark Wilens. The letter read:
"To Whom it may concern,
We are writing this letter in deep appreciation of the recent Good Samaritan
action from Melinda M. Keohan, a Corrections Officer at NYS DOCCS at the
Shawangunk Correctional Facility.
During the early morning hours of April 18th , as Ms. Keohan was driving to
work, she observed a fire on our lawn. There is no cell service in our area, so
Ms. Keohan immediately drove up to our house and began pounding on our
door. It took 10 minutes for us to wake up and come downstairs, at which
point she informed us there was a fire outside of our house. The fire nearly
reached our propane tanks before it was put out by the Woodstock Fire
Department.
It was extremely lucky for us that Ms. Keohan stopped an woke us up that
night and prevented any harm to us, our two young children and our home.
We would like to commend her for her actions and are incredibly grateful for
her quick thinking."
I commend Officer Keohan for the bravery displayed during this incident.